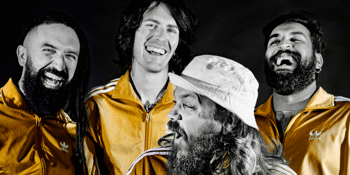 FANGZ - Won't Be Me Tour
with special guests
Pelly Bar Frankston (Frankston, VIC)
Friday, 22 April 2022 8:00 pm
Following on from their extensively supported releases of 'Self Medicate,' 'Prove Me Wrong' & 'I Don't Like Me' Sydney-based punk quartet FANGZ are returning to the stage with a mammoth Australian tour in support their new single 'Won't Be Me'.
Combining a mix of postponed shows & an abundance of fresh new dates, the semi-professional punk outfit will be bringing their highly energetic show which aims to get people to party and attempt backflips in mosh pits across cap cities & regional locations of Australia in 2022.
The 'Won't Be Me' tour picks up from where their previous sold out accolades left off, having toured extensively across NSW, ACT, VIC and QLD in recent years. In the live arena, FANGZ have sold out multiple headline shows and supported the likes of Comeback Kid (CAN), Cancer Bats (CAN), Gyroscope, Totally Unicorn and Bare Bones, as well as featuring on mega festival lineups including Inverted Festival & Halloween Hysteria.
Important Information for all Ticket holders: for the health and safety of all our guests and staff, we will be adhering to the Covid-19 vaccination directions as mandated by the Victorian Government. In line with the Victorian Roadmap, all staff and artists will be double vaccinated and all guests will be required to check-in via the Service Victoria App with a valid Vaccination certificate as they enter the venue.