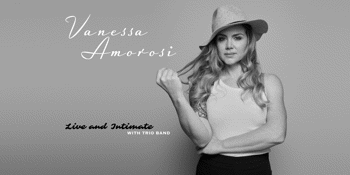 Vanessa Amorosi
with Special Guests
Chelsea Heights Hotel (Chelsea Heights, VIC)
Saturday, 14 May 2022 8:00 PM
20 years in the music industry, Vanessa has achieved a massive reputation for her songwriting and dynamic vocal range and ability. Her latest release 'Volume 1 and 2' is the introduction to Vanessa's next chapter in her career, Soul/Gospel. Returning from LA, this upcoming tour of acoustic shows will highlight an intimate experience with Vanessa and her small band, you will enjoy the songs you know and an exciting debut of her new music.
A night not to be missed! Don't miss out.
Important Information for all Ticket holders: for the health and safety of all our guests and staff, we will be adhering to the Covid-19 vaccination directions as mandated by the Victorian Government. In line with the Victorian Roadmap, all staff and artists will be double vaccinated and all guests will be required to check-in via the Service Victoria App with a valid Vaccination certificate as they enter the venue.