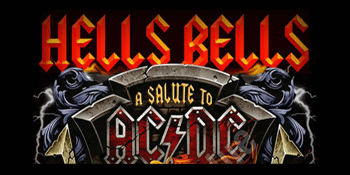 A Salute To AC/DC
HELLS BELLS
Gosnells Hotel (Gosnells, WA)
Saturday, 17 July 2021 8:00 pm
Hells Bells return to their original stompin' ground - The good ole Gozzy Hotel.
"Hells Bells have earnt a solid reputation over the sixteen or so years they have been together and tonight was no exception with the band now adding front man Sal Abate (Gunners, Emerald City, Hair Metal Heaven) to their arsenal, taking the band to new heights. Musically this band are as tight as any I have heard, with founder members Mal Osborne (rhythm guitar) & Glenn Warber (drums) accompanied by the wonderful guitar work (and occasional Angus hop) of David Jenkins and incredible bass playing of Pete Borg, which combined allows the music of AC/DC to be played very much as it was meant to be heard – solid, loud & raw"
Sean Bennett,
Rockpit.net
Formed in 2005, Perth's longest serving and most electrifying AC/DC salute band HELLS BELLS play all the greatest hits of both the Bon Scott and Brian Johnson eras from TNT thru to Thunderstruck and beyond.
Now in its 16th year, Hells Bells has proved to the loyal AC/DC fans that they are faithfully replicating the essence that is AC/DC.