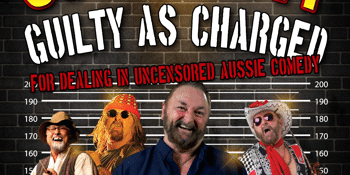 Live at Your Local
Col Elliott- Guilty As Charged
Stamford Inn (Rowville, VIC)
Wednesday, 23 March 2022 7:30 PM
COL ELLIOTT
The Legend of Comedy that keeps on giving!
Australian comedy has always been defined by its absolute originality and uniqueness on the world stage. One of our best is undoubtedly the one and only Col Elliott.
Never abiding to any form of political correctness, Col has been sending audiences into hysterics for just on four decades now. His Gold and Platinum album and CD sales attest to the huge following he has always maintained with fun loving Aussies.
His characters are priceless:

Punjabi – A Country & Eastern singer.
Slugger Mulligan – The bush poet is a misogynist!
Chooka Dennis – The Roadie
& many more!

All of Col's characters resonate with the Australian public, and political correctness is out the window at any Col show.
Do yourself a favour! See a Col Elliott show soon. For uncensored, uncompromised Aussie comedy, he is unbeatable!

Important Information for all Ticket holders: for the health and safety of all our guests and staff, we will be adhering to the Covid-19 vaccination directions as mandated by the Victorian Government. In line with the Victorian Roadmap, all staff and artists will be double vaccinated and all guests will be required to check-in via the Service Victoria App with a valid Vaccination certificate as they enter the venue.